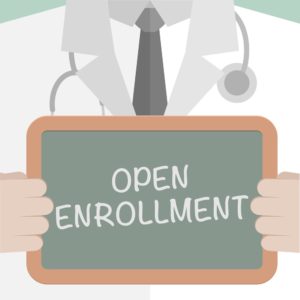 It's that time of year again – time to enroll in health coverage for 2017.  Open enrollment begins on October 1 for plans without financial assistance and on November 1 for plans with financial assistance.
So what's the difference in shopping in October versus November?  The plans available starting on October 1 through Florida Blue do not include financial assistance to help lower plan premiums or out of pocket costs.  Plans that become available on November 1on the government's Marketplace offer financial assistance to those who qualify.  We're here to help you down the path that's best for you, and we can help you directly or through the Marketplace to find the right Florida Blue plan for you and your family.
All of our health plans include the essential health benefits of the Affordable Care Act, plus member programs to support you and your family in your pursuit of health.  Below are some things to keep in mind as you consider your coverage options for next year.
If it seems overwhelming, don't worry! We're here for you. Simply call a local agent or visit us a Florida Blue Center.
What is Health Coverage?
At some point, everyone will need to use the health care system – whether for routine care, to treat an illness or after an accident.  Health coverage provides you with the ability to get medical care when you need it and protects you from high treatment costs.  It will also pay for preventive services, such as annual exams and testing, that will help keep you healthy.
Once you enroll in a plan, you pay a monthly bill for your health plan – known as a premium.  When you receive care, you may have to pay part of the cost – known as cost sharing.  Health insurers will have a group of doctors, hospitals, pharmacies and other health care providers they have contracted with – known as a network – and using these providers will lower your costs.
Selecting a Plan
When reviewing health plans, you should consider several factors:
· Premium:  The monthly amount you pay for your health plan.  In general, plans with lower premiums have higher cost-sharing amounts (deductibles, copayments and coinsurance).
· Member Cost-Sharing:  The out-of-pocket expenses you will pay for care, such as the deductible, copayments, coinsurance and out-of-pocket maximum.
· Provider Network:  The group of doctors, hospitals, pharmacies and other health care providers that are contracted to provide services for a health plan.
If you decide not to enroll in coverage for 2017, the annual penalty for being uninsured will increase from the 2016 amounts of the greater of either $695 or 2.5% of taxable income.  In addition, you will be responsible for all of the costs related to any health care treatment or services you receive.
Enrolling in a Plan on the Marketplace
Florida Blue agents can help you apply for coverage through the Marketplace. We'll take you through the steps to enroll in coverage through the Marketplace. This is the only way to receive financial assistance to help with health care costs.
To find out if you qualify for financial assistance, you will need to provide information about you and your household, including income and any health coverage you currently have.  Click here for a checklist of the information you may need to provide in your Marketplace application.
Based on your household size and income, there are two types of financial assistance available:
· A premium tax credit (or subsidy), which will help lower your monthly health plan premiums. If you qualify, the government will send these tax credits directly to your health insurance company to lower your monthly premium, and the insurer will send you a monthly bill for any balance due.
· Cost-sharing reductions lower out-of-pocket expenses for covered health services. If you are receiving tax credits to buy Marketplace coverage and your income qualifies, then you can enroll in specific 'Silver' plans that have lower deductibles and coinsurance costs.
If you are already enrolled in a plan through the Marketplace for 2016, it is important for you to ensure that your household size and income information is updated in your Marketplace application so that you qualify for the correct amount of financial assistance in 2017.
Reporting Changes to the Marketplace
When you choose a Florida Blue health plan through the Marketplace, you'll have to update your Marketplace application with changes to your income, household, address and health coverage eligibility as soon as possible.  These updates may change the coverage or savings you're eligible for. Florida Blue agents can help you do this.
Don't Wait!  Make sure you have coverage January 1, 2017
· October 1, 2016: Open Enrollment starts for Florida Blue plans without financial assistance.
· November 1, 2016:  Open Enrollment starts for 2017 Florida Blue plans on the Marketplace that offer financial assistance. We'll help you with your Marketplace application.
· December 15, 2016:  Last day to enroll in coverage that will start on January 1, 2017
· January 1, 2017:  2017 coverage starts for those who enroll in or change plans by December 15
· January 15, 2017:  Last day to enroll in coverage that will start on February 1, 2017
· January 31, 2017:  2017 Open Enrollment ends.  If you enroll between January 16 and January 31, your coverage will start March 1, 2017.