03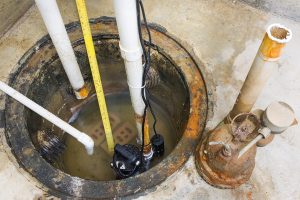 When a severe storm hits, homeowners may experience excess water in their basements or the lower levels of their home. A sump pump is an important tool that can help protect your property by controlling water and keeping your home dry.
Sump pumps are typically found in the lowest part of a house, such as a basement, and are usually professionally installed in a pit specifically designed for the sump pump. The sump pump's primary job is to pump water outside and away from the home. There are generally two types of sump pumps, pedestal and submersible.
Generally, sump pumps are very dependable. Many are equipped with battery powered flood alarms that you alert you if there is a problem with pump or water is rising. Modern systems can notify you or your alarm company if water backs up.
Annual sump pump maintenance is simple and takes a few minutes.
The pump should be plugged into a ground fault circuit interrupter (

GFCI

). Check to see that it is still plugged in and operating. Periodically, breaker circuits in damp areas may be tripped so it's important to check occasionally to make sure that the

GFCI

does not need to be reset. Also check the power cord's condition.
Check that the outlet drainage hoses connected tightly and draining at least 20 feet away from your home's foundation.
Remove the submersible pump and clean the bottom grate. Check to see no debris is clogging the pump and preventing it from working properly. During operation, small stones can get pulled into the grate and block it. Clearing any stones or debris will prevent the pump from being damaged.
During your inspection, pour water into the sump pit. This will test to see if the sump pump starts up automatically and quickly drains the water. If it doesn't, have a professional inspect it.
Since sump pumps run on electricity, consider installing a battery backup to help ensure yours will not fail, even in the event of a power outage. If you have installed a battery backup, during your test of the sump pump installation, unplug the pump to ensure that it will function properly on battery power. For homeowners on a municipal water system, water-powered sump pumps are an alternative. However, while these systems will not be affected by an electrical outage, due to their design, they will use the same amount of city water to operate that the pump is removing from the basement. This makes them viable for use as a backup but not as a main pumping system.
During your inspection, if you discover that your sump pump is not functioning properly contact a professional for inspection or repair.
Finally, as most homeowner's policies do not cover water backups in the basement, homeowners should talk with their insurance agent about additional coverage. This will ensure that the homeowner is covered if there is a sump discharge or overflow.