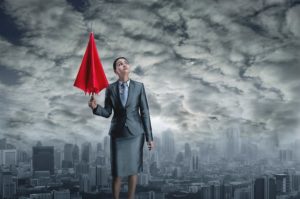 Mitigate possible losses
Homeowners aren't the only ones affected by these catastrophic storms. Businesses are also affected, and they need to have a disaster plan ready so that they can mitigate any losses that occur after a storm hits. They must develop a plan that helps them remain open or enable them to reopen quickly, after the disaster is under control.
Develop a plan that helps prevent or reduce flood damage, especially if your business is located in a flood-prone area. If your business sustains property damage, you are obligated to minimize or prevent further damage. If you can't find a contractor right way, place a waterproof tarp on your roof to keep the rain out of the building's interior. All expenses you incur to minimize your property damage are reimbursable, as long as you have insurance.
Notification of loss
Call your insurance company as soon as you are aware that your business has sustained property damage. Once your agent receives the notification, he or she will send out an adjuster to determine the level of damage and arrange for cleanup and repairs.
Five Tips to Help Your Business Prepare for Flooding
1. Research local contractors and restoration companies ahead of time.
Learn about the Sarasota, FL roofing contractors and restoration companies in your neighborhood. Find out which ones are the best and add them to your business contacts database. Also, contact them and establish a working relationship.
That way, when disaster does strike, you will know who to call to have the repairs made. Be aware that the demand for emergency services surges after a severe storm. Don't wait too long to call them, or you may find yourself dealing with a sub-par roofing contractor and/or restoration company.
2. Develop an emergency response plan.
An emergency response plan is essential if you expect to react quickly, once a disaster strikes.
Take extra precautions if your business uses chemicals or pollutants. Never forget to include pre-planning options to safely relocate them to avoid injury and property damage during the cleanup process. If possible, store them in another area that isn't prone to floods.
Invest in a generator.
Generators are great to prevent power interruptions during major storms. If you own a large building, where other businesses rent a space from you, a generator is essential. It minimizes their risk of going out of business and you losing valuable tenants.
3. Keep your insurance policies and photographs in a safe, waterproof place.
In the event of an emergency, contact your insurance company or broker and provide them with as much detailed information as possible. Photograph your building prior to the disaster, and then take photos after it is over. These Before and After photos will provide invaluable information to your insurance carrier about your loss.
4. Don't sign any repair or restoration contracts without talking to your insurance company adjuster first.
Your adjuster can protect you from price gouging, which often occurs after a catastrophe. However, he/she will not be able to protect you if you have already signed a contract. Since they are not bound by any contracts that you sign, you can expect to lose more money, in addition to the money that you lost in the disaster.
5. Keep your records organized.
Prepare a list of damaged or destroyed property for your adjuster and keep a copy for your records. Provide available invoices, canceled checks and anything that supports the value of your property before the disaster hit.
Make sure to keep all of your invoices and receipts for every expense you incur after the loss. This includes cleaning supplies, tarps, boards, etc. These costs will help lessen your deductible.