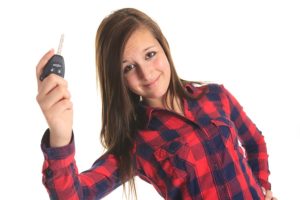 So your teenager has gone through drivers ed and has passed the driver's test. For his or her 16th birthday, you would like to gift your pride and joy with a new car. However, expense aside, the facts are that most teenagers lack impulse control and sometimes do not think through the consequences of their actions, great care has to be taken to selecting the first set of wheels that they will drive to school and on dates. It is useful, therefore, to list the sorts of cars you should not buy your child.
That you should avoid sports cars is a no-brainer. There is something about a powerful engine and the sleek, sexy lines of such vehicles that cry out to be driven at unsafe speeds and in a reckless manner. Tell your kid that he or she can have a sports car when they become older and can afford it themselves.
You should also avoid vehicles that are inherently unstable, such as SUVs, that cannot take tight turns very well, smaller cars, that tend to not survive crashes too well, or older cars that will likely not have the latest safety features and may be prone to breaking down at inconvenient times.
The perfect starter car for your teenager would be a late model midsize vehicle that is packed with the most current safety features. Some of these features should be standard, such as airbags, antilock brakes, and traction control. But Consumer Reports lists some more high-tech safety features that you should seriously consider shelling out for as an extra protection for your teen against auto accidents. These include:
Braking assist which can consist of a warning in case the driver is approaching the vehicle ahead of him or her too quickly or even an automatic braking feature that stops the car to avoid a head-on crash.
Blind spot warning that will alert the driver that another vehicle is in an adjacent lane and even makes a sound if a driver attempts to change lanes that will result in a crash.
Lane departure and lane keeping feature which will alert the driver if he or she is straying out of the current lane without consciously signaling and will turn the steering wheel to put the car back in the lane if it is straying accidentally.
A backup camera that shows what is behind the car without the driver having to turn his or her head or rely on a rear view mirror.
You can go to both the United States Department of Transportation site and the Insurance Institute for Highway Safety site to research safety ratings for various models and makes of cars and other information before making your selection.