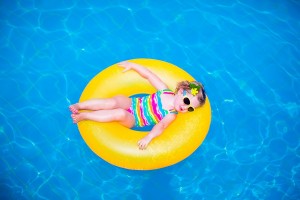 Once reserved for the summer months, backyard entertaining has grown to be a popular year-round activity for many homeowners.  However, those backyard fire pits and large playsets carry their own risks, sending thousands of people to emergency rooms every year.  Before you send out the invitations for that pool party or backyard barbecue, here are some easy steps you can take to keep your family and your guests safe.
Water Features
While garden water features are pretty, they can also be enticing to young children. To reduce the risk of drowning or other injuries, take these steps:
Supervise children at ALL times when around water.  Remember, a child can drown in as little as an inch or two of water.
Secure yards with lockable fences and use rigid covers for in ground ponds.  Make sure a child CANNOT unlock them.
To prevent poisoning, secure water treatment chemical mixtures between uses.  Store them far out of the reach of children.
Playsets
Playsets are a popular backyard accessory. But care must be taken with them to avoid serious accidents. Here are some tips to make backyard play safer:
ALWAYS supervise children while they play.
Check the structure regularly for rust, rot, warping, or other issues. Repair or replace equipment regularly.
Check for gaps in playset pieces where a child's head, neck, or other body parts could be trapped.
Make sure

playsets

are firmly anchored on level ground. Use wood chips or other soft materials to cushion falls.
Fire Pits
Improperly supervised fire pits can start property fires and cause burns. To keep everyone safe, follow these tips:
To lessen the risk of fire, place the fire pit in a location away from low-hanging branches or other flammable materials.
Maintain adult supervision of children until the pit has cooled.
NEVER leave the fire pit unattended until it has been extinguished and fully cooled.
If using coals, use sand to fully extinguish the fire.
Once cooled, place the coals in an appropriate metal container for disposal.
Lawn Mowers
Lawn mower injuries send thousands to people to the emergency room every year, so use these tips to help make mowing safer for everyone:
Make sure you read and understand the owner's manual and how the machine's controls operate.
Keep children and pets away from a mower while it is in use.
Make sure your yard is clear of debris that can be kicked up by the mower and cause injuries.
NEVER leave a running mower unattended.
NEVER  operate the mower in an enclosed place where carbon monoxide can accumulate.
DO NOT work on a mower if the engine is on or the spark plug is connected.
Wear long pants, eye and ear protection and non-slip shoes or boots when you are mowing.