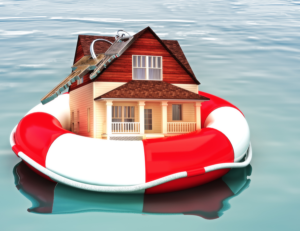 Americans certainly have a love affair with the water. When building luxury homes, there's no place better to situate the mansion than on appealing shore front property. However, there is a small problem with this practice: climate change is raising the oceans' levels every year. Inch by inch coastline is disappearing into the expanding salt water barrier. How much will disappear and how soon is on everyone's mind.
The real estate website Zillow reported in March that a new study finds that up to $880 billion worth of luxury homes will have vanished by the end of this century. It's a huge number! Is your neighborhood in trouble? Read on to find out.
Rising Tides
The National Oceanic Atmospheric Administration (NOAA) is projecting that sea levels will rise as much as six feet in the next hundred years. When walking along the beach, don't consider that you will lose a six foot wide path on the sand, look over your head and then see where that line runs to on the beachfront homes. For neighborhoods built on pilings, next to canals and on small islands, it is a guaranteed death knell. The lowest projections have the oceans rising by just two feet, but that still will threaten a significant amount of property.
Florida at Greatest Risk
The world's largest retirement community stands to lose the most homes to the growing ocean problem. Wealthy individuals seeking a constant temperature and healthy economy select the most southern state of the 48 to settle their dream home, and the closer to the water the better. Nearly 13% of Florida's private residences would be at risk with a the higher rising rate, totaling nearly a million homes worth up to $400 billion dollars.
California's Coast Going Down
In the Newport Beach area of California, the median home price is significantly higher than the rest of the nation. Which means that while only 4,000 homes might sink into the ocean their combined value is currently over $10 billion dollars. Would the neighborhoods situated on cliffs fare any better? While their foundations might be safe from encroaching waters, the loss of usable beaches would significantly reduce their property value.
New York Loses Long Island
The farther you travel from New York City into Long Island Sound, the larger the estates become. However, the sea is held back in these sections by nothing more than minimal sea walls, which would drown beneath a six foot rise. 32,000 homes on some of the most desirable real estate in the North East would be affected, for a total loss of $27 billion.